Every business owner knows that cash flow is king. Without it, no amount of zeros on your top line revenue matters. Yet cash flow is the stormiest and most unsettling parts of being self-employed. After all, you can't make your mortgage payment without it.
I find I am particularly sensitive to cash flow, especially when compared to many entrepreneurs. My mother got it right when I was young when she bought me a sign that says: "Happiness is a positive cash flow". While I deeply believe happiness is much more than a positive cash flow… it sure does help!
One of the best ways to sustainability and sanity is to temper wild cash fluctuations and stabilize cash flow. Here are 3 ways to do that.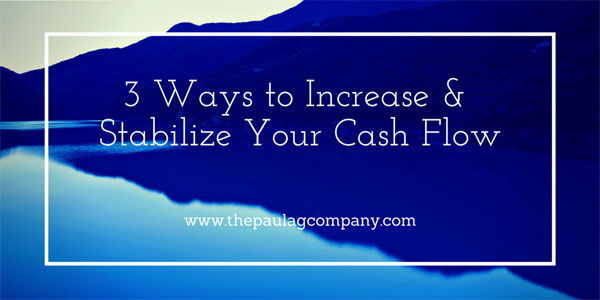 Change Payment Terms
Review payment terms you have with clients. Are you leaving significant portions of your cash flow up to the whims of your clients and hopeful projections of project milestones? This move is not about making it be "all about you" or shortchanging the client by any means. It simply more accurately aligns cash flow with the work you do and value you provide. If you always collected 50% at start and 50% at completion, how might your cash flow change if you collected 50% up front, 25% at a midpoint milestone and 25% at the end? This is just one example so play with the numbers and percentages. Consider adjusting your payment terms (due on receipt, 15 days, 30 days, etc.) as well.
Need a confidence boost that this line of thinking is acceptable? Consider the construction industry where they get paid 90% before work is complete (with only a 10% holdback). Some service providers require 100% up front. [Read more…]